Bay-Area Pest & Wildlife Control Experts
At Smith's Pest Management, we are a locally owned Bay Area-based pest control company that specializes in getting rid of gophers, ground squirrels, moles, voles, and rats as well as other pests quickly!
In business for over 10 years, we provide gopher removal services as well as solutions for other burrowing pest and damaging rodents.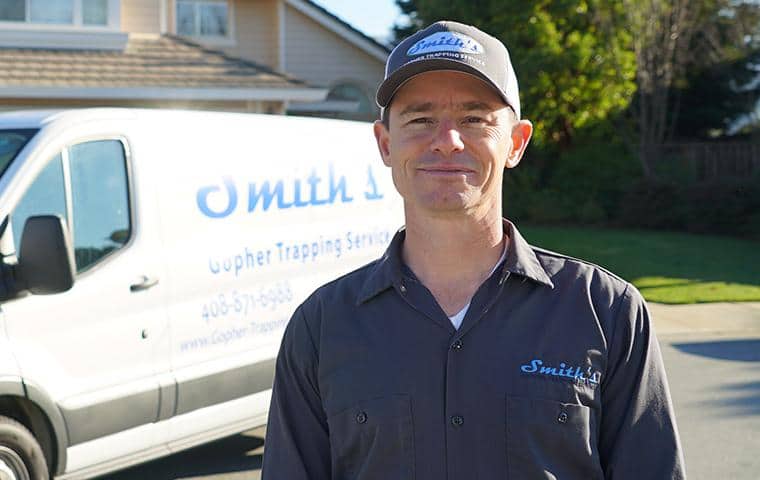 Landscape Pro Turned Trapping Specialist
As a graduate of Cal Poly Horticulture (Class of 2002), owner Zachary Smith worked nine years as a landscape professional- dealing with gophers, moles, and ground squirrels every day.
He founded Smith's Pest Management, after long and frustrating (and ultimately unproductive) search for an excellent gopher control service. Zachary learned to get rid of gophers so well that he began to help other local gardeners eliminate their moles, ground squirrels and gophers from lawns and landscapes too.
Today, Zach and his team trap and remove burrowing pests from residential and commercial properties as well as schools, cemeteries, vineyards, and public parks throughout the San Francisco Bay area, from Marin to Monterey. Click here for more information on our service area.
Meet Zachary Smith
A professional horticulturist who holds a BS in Environmental Horticultural Science from Cal Poly San Luis Obispo, Zach also holds a number of trade certifications, including the following licenses:
State Trapper's License
Qualified Applicator's License (QAL)
State Pest Control Business License
It is a little known fact that these licenses are required by the State of California to trap nuisance wildlife.
A Bay Area native, when not at work, Zach enjoys spending time with his family cycling, hiking, and taking road trips.
Why Choose Smith's
The Smith's team is state licensed and insured to eliminate pests on residential and commercial properties as well as schools and parks.
We have extensive experience getting rid of gopher, moles, grounds squirrels and other nuisance and destructive pests. In fact, our team members are personally trained by Zachary Smith, are passionate about what they do, and are excited to help protect your property from pests and the damage they cause.
By design, Smith's team members are prompt, responsive, courteous, and reliable.
We are committed to our customers' satisfaction. If your experience with our company ever feels less than wonderful, we will make things right for you, right away. It is our goal to work hard to impress you, but we'll also guarantee the results.