Getting Rid Of Gophers, Ground Squirrels, & More For 10+ Years
Are you tired of moles, gophers, and rodents, damaging your Concord, CA yard and home? If you are ready to take back your property from pests, then it is time to learn more about Smith's Pest Management. For more than 10 years we have been protecting Bay Area properties from destructive pests. We serve the entire Bay Area from Novato to Concord to Monterey and we provide a non-toxic solution to pest problems. To learn more about our comprehensive solutions, contact Smith's Pest Management today.
Common Problems Rodents Cause In Concord, CA
Rodents are a common problem for property owners in Concord, CA. One of the most common species of rodents to cause problems for homeowners is the rat. Some of the most common troubles rats and other rodents cause are listed below:
Rodents can find their way into cars and RV's where they chew through wires, cables, and other structural elements.

Rodents can spread disease, bacteria, and parasites to people.

They often contaminate food sources.

They can chew on and through personal property such as clothing, furniture, books, and pictures.

They can cause structural damage inside homes by chewing on wires, pipes, drywall, and flooring.

Their chewing habits can trigger fires and cause water damage inside homes.

Rodents are active at night and can create a lot of noise in a home during the overnight hours.
If rodents have become a problem on your Concord property, Smith's Pest Management can help. We offer a variety of rodent control methods to eliminate, control, and help prevent problems with these destructive and dangerous pests. Give us a call today to learn more about our rodent control or to schedule a phone consultation or onsite inspection!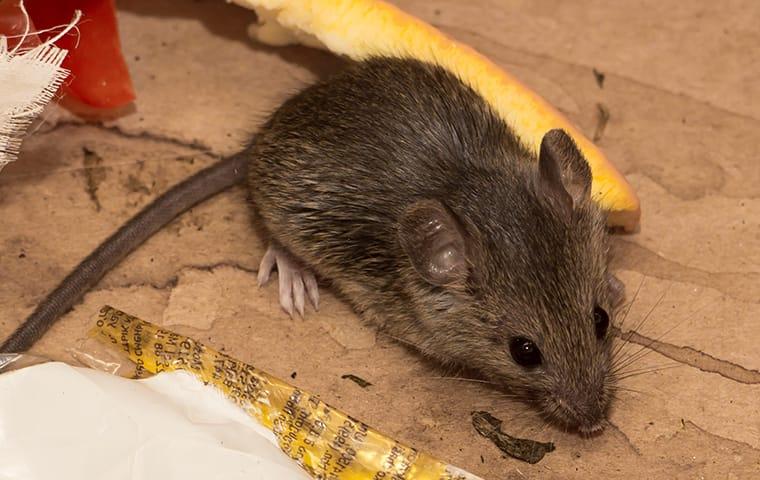 Guide To Avoiding Moles In Concord, CA
Moles are a particularly difficult pest to avoid, mainly because they are attracted to lawns that are lush, green, and healthy. Healthy lawns are full of a mole's favorite foods, earthworms, grubs, and other insects. There are a couple of things you can do to avoid moles such as placing an underground perimeter fence and not overwatering your lawn. However, the best way to eliminate moles and/or protect your property from future mole infestation is to reach out to Smith's Pest Management.
We offer the effective mole trapping and exclusion services needed to protect your property from these damaging pests. The service begins with a phone consultation or, if necessary, an onsite inspection. We then use carefully placed traps to eliminate current mole invaders. After the initial infestation is taken care of, we recommend implementing our annual mole control program to prevent future issues with destructive pests. To learn more about our guaranteed mole control service, get into contact with us today.
Why Concord, CA Residents Should Consider Professional Gopher Control
If gophers have taken up residence on your Concord property you may be tempted to try and resolve the issue using DIY methods. However, DIY gopher control is often ineffective, costly, and, if chemical methods are used, a potential danger for you, your family, and your pets.

Gophers are known to create a lot of damage to properties. They are active year-round, their tunnels can ruin the structural integrity of lawns, and their feeding habits can damage or kill grasses, trees, roots, shrubs, and other types of plants.

The professionals at Smith's Pest Management are highly experienced in gopher control and can quickly, completely, and without hassle eliminate a gopher infestation from your property. To learn more about our gopher trapping service, give us a call today!
Problems Ground Squirrels Cause In Concord, CA
Digging under fences to gain access to any property they please, ground squirrels are a difficult pest to keep out of Concord properties. Ground squirrels are not only one of the most common rodents living in our area, but one of the most damaging. Destructive, difficult to control, and prolific breeders, ground squirrels are a nightmare for homeowners to deal with. They cause:
Holes along the edges of foundations, patios, and decks.

Damage to trees by scraping bark away.

Trip and fall hazards in lawns because of their entrance holes.

Holes in lawns that make it difficult to mow.

The destruction of crops found in gardens and orchards.
For homeowners looking to protect their properties from ground squirrels, Smith's Pest Management offers our ground squirrel control service. Our technicians get rid of ground squirrels with methods like trapping, fumigation, or baiting. To learn more about our ground squirrel control process, reach out to us today!
Expert Pest Control Solutions In Concord, CA
Known for its amusement parks and natural areas, not to mention its proximity to scenic Mt. Diablo, Concord is a suburban town east of California's Bay Area. With tourist draws, plenty of population, and a climate that stays relatively warm throughout the year, pest issues can even hit Concord. That's why locals have to know how to eliminate pest infestations and prevent them from invading in the first place.
The Best Way To Deal With Raccoons In Concord
Raccoons are some of the most troublesome invaders of human properties. They dig through our trash, mess up our yards, and can even find their way indoors if access points aren't addressed quickly. More than that, they can help spread diseases and parasites like ticks and fleas. That's why you should get started on preventative measures now, rather than waiting for raccoons to become a problem before you worry about addressing them. Here are some of the ways you can get ahead of these pests:
Trash Storage: Raccoons aren't above rooting through your trash cans for some tasty morsels. They can even open up lids with their dexterous paws. This is why you need to make sure your bins are tightly secured.
Landscaping: Raccoons and other pests like to hide in overgrown plants, grasses, and piles of debris left around yards. Keep your yard trimmed and free of these potential hiding spots.
Inspections: The best way to check for signs of raccoon activity is with help from trained experts. At Smith's Pest Management, we can help you look for signs of raccoons or even factors that might attract them.
Treatments: If raccoons or other pests are already there, you need to let professionals handle them. Rather than risk their scratches or bites, let experts who are trained in safe and proper removal handle the problem.
To protect your Concord property from raccoons, contact Smith's Pest Management today.
How Can I Tell If My Concord Business Is At Risk For Termites?
Termites are one of those pests no one wants, but anyone can get. Because most structures are wooden, and our yards tend to contain bushes and trees, human properties are really like all-you-can-eat buffets to termites. This is why every business is really at risk for a termite colony. Business owners need to know how to protect their property long before termites are already there and experts can help with thorough inspections and effective treatments.
At Smith's Pest Management, we assist you by checking the places where termites tend to start (like out in the soils of your yard) and where they tend to attack first (like interior woods in your walls). Only trained professionals are guaranteed to catch the signs of termite damage before it's costly and irreversible. Don't take chances with termite infestations in Concord. Contact Smith's Pest Management right away.
Are Concord's Spiders Dangerous?
In terms of the most dangerous types of pests out there, spiders are actually lower on the list than others. Parasites like mosquitoes and vermin-like rats are more prone to spread diseases than spiders, which aren't known to carry any. And even other biting pests, like bed bugs and ticks, tend to cause worse long-term effects than spiders do. In fact, spiders even hunt many of those other kinds of pests, making them more beneficial to your property than you probably realize.
However, some spider species can carry venom that makes them much more threatening to people and our pets. Plus, the presence of spiders clues you into larger pest populations that spiders are there to hunt. This is why you should partner with pest experts like Smith's Pest Management. We can help you separate dangerous species from common household ones, not to mention address the existing pest factors that draw in hunters like spiders in the first place. To keep your Concord property free from spiders, turn to Smith's Pest Management today.
What Every Concord Property Owner Ought To Know About Rats
It can be easy to assume that rats only happen on dirty properties. While they are rightly associated with filth thanks to the squalor they help to contribute to, rats can actually invade all sorts of homes and businesses. Like all pests, rats are attracted to the food, water, and shelter found inside of human structures, so they will stop at just about nothing to find access points. Once they get a foothold on a property, they can contribute to all of these types of issues:
Damage: Rats constantly chew in order to keep their front teeth filed down. This leads to bite marks, holes, and other kinds of damage all around a property.
Disease: Rats can carry diseases or even parasites like ticks and fleas, all of which pose direct harm to your health.
Population: Rodents breed quickly and in large numbers, which is why a population needs to be addressed quickly.
Avoid all this by turning directly to the pros for help with rodent prevention in Concord. Call Smith's Pest Management today or visit us online to learn how we can help.