Getting Rid Of Gophers, Ground Squirrels & More For 10+ Years
Fremont, located on the southeast side of San Francisco Bay, is full of great people, culture, educational opportunities, and of course fun! Unfortunately, Fremont's moderate climate not only attract people to this great city, but also many invasive, annoying, and potentially dangerous pests. To protect Fremont properties from yellow jackets, moles, gophers, voles, ground squirrels, and rats, partner with the local professionals at Smith's Pest Management. We offer effective and modern treatment options. To learn how our comprehensive and non-toxic pest control solutions can get rid of garden pests and more from your Fremont property, give Smith's Pest Management a call today.
Guide To Yellow Jacket Control In Fremont, CA
Yellow jackets often create nests in holes in the ground. Their ground nests, which they aggressively defend, can be difficult for people to spot, making yellow jackets dangerous pests to have on your property. Smith's Pest Management provides the services needed to protect your family and pets from their painful stings and dangerous venom.
To rid properties of invasive yellow jackets, we come to Fremont properties and implement our yellow jacket control process which includes:
A thorough inspection to find the yellow jacket ground nests located on a property.

Treatment of the ground nests to eliminate the yellow jackets living in the nest.

To get rid of any yellow jackets that were not in the nest during treatment, we place treated bait around your property.
To learn more about our effective yellow jacket control process which can be completed as a one-time service or as a year-round service, give us a call today.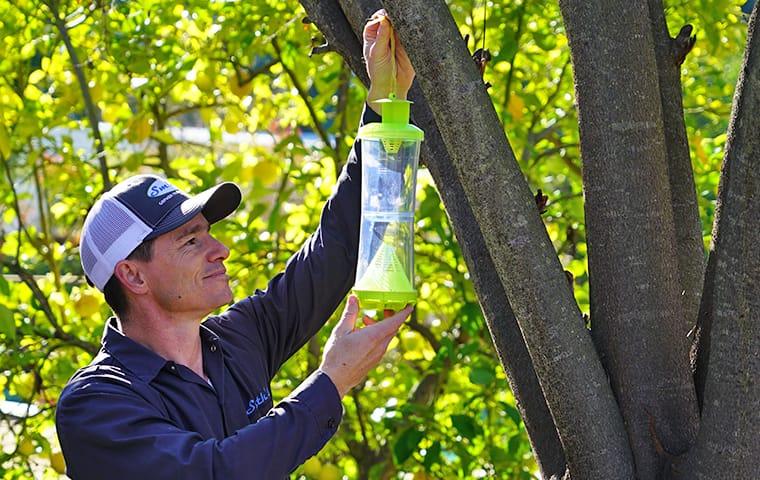 How To Identify Ground Squirrel Problems In Fremont, CA
As their name suggests, these squirrels don't live and nest in trees, but rather in holes they create in the ground. Their digging habits can create a lot of damage to a property in a short period of time. A ground squirrel infestation can be identified by the unique damage these rodents cause.
Unsightly holes and burrows in or around lawns, gardens, fields, foundations, patios, and decks.

Scrape marks on trees, sheds, and garages.

Scraping away gravel or dirt from concrete foundations, driveways, and walkways.

Destruction of gardens and orchards.
To stop ground squirrels from causing extensive damage to your Fremont property, partner with the ground squirrel control experts at Smith's Pest Management. Our ground squirrel control process includes a thorough inspection, the development of a management plan, the elimination of ground squirrels, and exclusion methods. To learn more about our ground squirrel control service, give us a call today.
3 Things Every Fremont, CA Homeowner Should Know About Rodents
Rodents are tough pests to keep off your property and away from your home. They are highly invasive and like to take advantage of food and shelter which we unintentionally provide for them. 3 things that every homeowner should know about rodents include:
Rodents are a year-round problem in Fremont, they can enter into your home any time of the year looking for a safe place to nest that is close to food sources.

Rodents can enter homes in a variety of ways including spaces in foundations, spaces around utilities entering your home, through open vents, through chimneys, and through holes in the roofline.

Rodents are dangerous. They have the potential to contaminate food and the surfaces of your home with their urine, excrement, and saliva. Additionally, they can cause structural damage to your home that can lead to fires (chewing through wires).
If rodents have become a problem on your property or in your home call the professionals at Smith's Pest Management. We can provide the rodent control services need to eliminate them and prevent their return throughout the year.
Why You Should Call A Professional When You Spot Gophers In Fremont, CA
Gophers are garden pests that spend most of their lives underground and out of sight of people. This makes them difficult pests to eliminate and control. If you spot gopher damage on your property, it is important to contact a professional. Professionals understand gophers and can provide the services needed to eliminate them, minimizing the amount of damage their feeding habits cause to grass, trees, shrubs, and plants.
At Smith's Pest Management, we have developed an effective method to trap and remove gophers from properties. Our professionals find and expose a portion of the gopher's tunnel. Then they place a stainless steel gopher trap inside. After a few days, our professionals return to remove the gophers from the traps. They will repeat the process until all the gophers have been removed from your property. To eliminate destructive gophers from your property once and for all, call Smith's Pest Management today!