Learn More About Gopher Control In San Jose, CA
California pocket gophers are invasive pests that are active throughout the entire year. They spend most of their lives tunneling and feeding under the ground, damaging grass, trees, plants, and flowers in the process.
Once gophers have decided to call your property home, they can be very difficult to eliminate. The professionals at Smith's Pest Management know gophers inside and out and can provide the services needed to get rid of them.
Our gopher trapping process includes:
Exposing gopher tunnels.

Placing a stainless steel gopher trap inside.

Re-covering the exposed tunnel and marking it with a small flag.

Returning to remove the gophers from the trap.

Placing more traps (if necessary) to remove all the gophers from your property.
To discover which of our gopher trapping program options is the best fit for your San Jose property, reach out to us today and speak with one of our friendly professionals.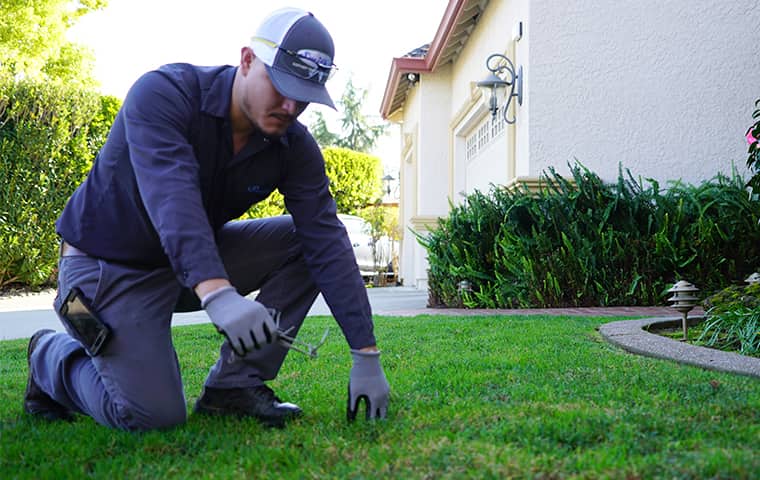 Signs Of Ground Squirrel Infestation In San Jose, CA
Ground squirrels are one of the most common rodents in our area, they are prolific breeders, and they can cause major damage to lawns by digging unsightly and dangerous holes and burrows into the ground. Ground squirrels can cause a lot of damage in a small amount of time so knowing the signs of their presence is important.
Signs of a ground squirrel infestation:
Ground squirrels look similar to tree squirrels, gray with a bushy tail. If they are burrowing on your property you will more than likely spot them hanging out in groups on rocks, woodpiles, and in garden areas.

Large holes popping up on your property. Ground squirrels dig burrows in lawns, gardens, and around the edges of foundations, patios, and decks.

Ground squirrels leave tell-tale signs of their presence. They will scrape dirt or gravel away from the edges of foundations, leave scrape marks on trees and on the outside of structures (garages, sheds, etc.), and will raid and destroy gardens and grapevines.
If you discover what you think is ground squirrel damage on your San Jose property, immediately contact Smith's Pest Management. Our professionals will quickly come to your aid and provide the targeted ground squirrel control services needed to get rid of the pesky pests!